What to expect?
B2B Networking & Explore New Opportunities.
There is always something about each of the PharmaSynergy meetings that creates a great deal of excitement among the BD&L pharma community: be it the speakers that present, the topics that are covered, or the networking and business opportunities that the event provides.
Traditionally, the winter edition of the PharmaSynergy is focusing on stimulating B2B partnership meetings, targeting growth & mature regions. Pharma companies with a product portfolio in Rx, generics, branded, niche & value-added medicines & injectables are invited to network.
In addition to B2B partnership, #PharmaSynergy proposes stimulating BD-tuned content:
- Growth strategies through an economic turmoil: strategy & portfolio considerations
- Geo outlook by regional companies: go-to-market analytics, trends & developments in selected growth regions
- NEW! Partnerships for Value-Added and Patient-Centric Innovations: meet Digital Therapeutics (#DTx) & Drug Delivery & Formulation (#DDF) companies and learn how to achieve innovative synergies that work for your portfolio
Alejandro Delgado, Global Head of Portfolio Management & Business Development, Insud Pharma
Atif Idrees, President & CEO, CCL Life Sciences & CCL CHC
Miguel Mutti, SVP Corporate Development and M&A, Lupin
Nishank Gohel, Head of Business Development, Hovid Berhad
Xavier Arnaud, Director Corporate Business Development / M&A, FAES Farma
Nadeem Rehmat, Chief Operating Officer, PharmEvo
Binu Philip, Senior General Manager & Head, Business Development, Zydus Group
Paulo Etcheverry, General Manager, LatAm, Laboratorio Siegfried (Grupo Roemmers)
Shlomo Sadoun, Co-Founder and CEO, SK-Pharma Group
Gemma Malla Salomó, Head of Digital Medicines, Angelini Pharma
Jan Šomvársky, Co-founder & CEO at Vitadio
Abhishek Shah, Co-Founder & CEO, Wellthy
Brian E Wallace, Co-founder, Chief Medical Officer, Calmsie
Katrin Geyskens, Partner, Member of the Executive Committee – Digital & Health, Capricorn Partners
Nihal Shah, CEO, Biodeal Laboratories
Rami Alkoumi, Head of BD & Alliance, SAJA Pharmaceuticals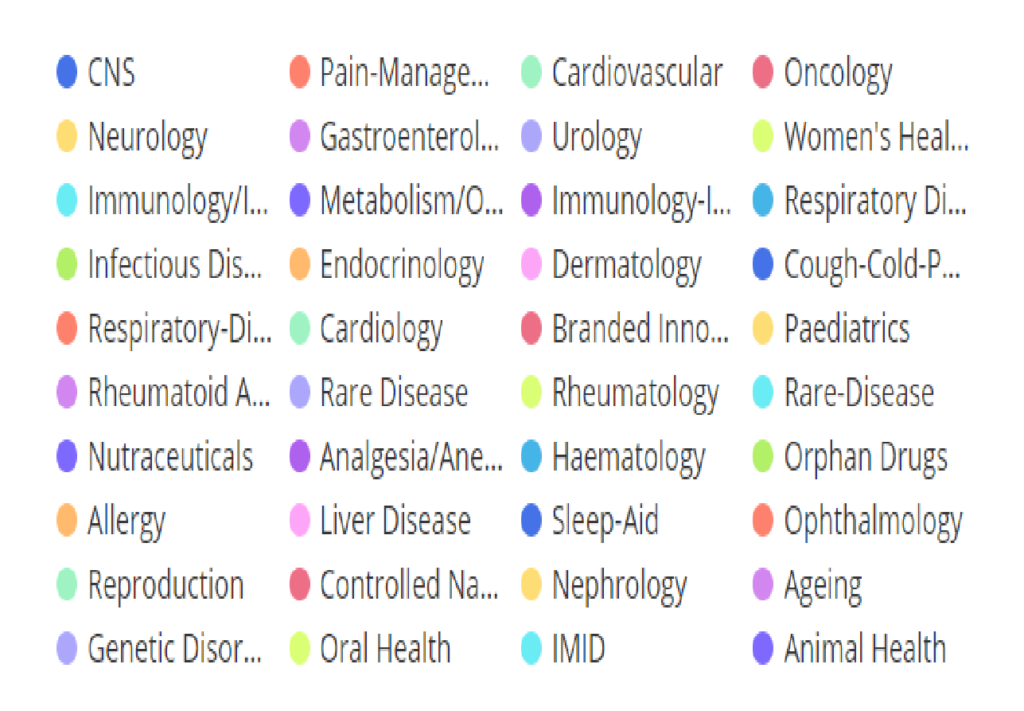 The event offers a digital platform that allows attendees to look for a specific product category, geo opportunities or therapeutic area partnerships suggestions and then schedule, arrange and attend pre-booked 1-2-1  business meetings.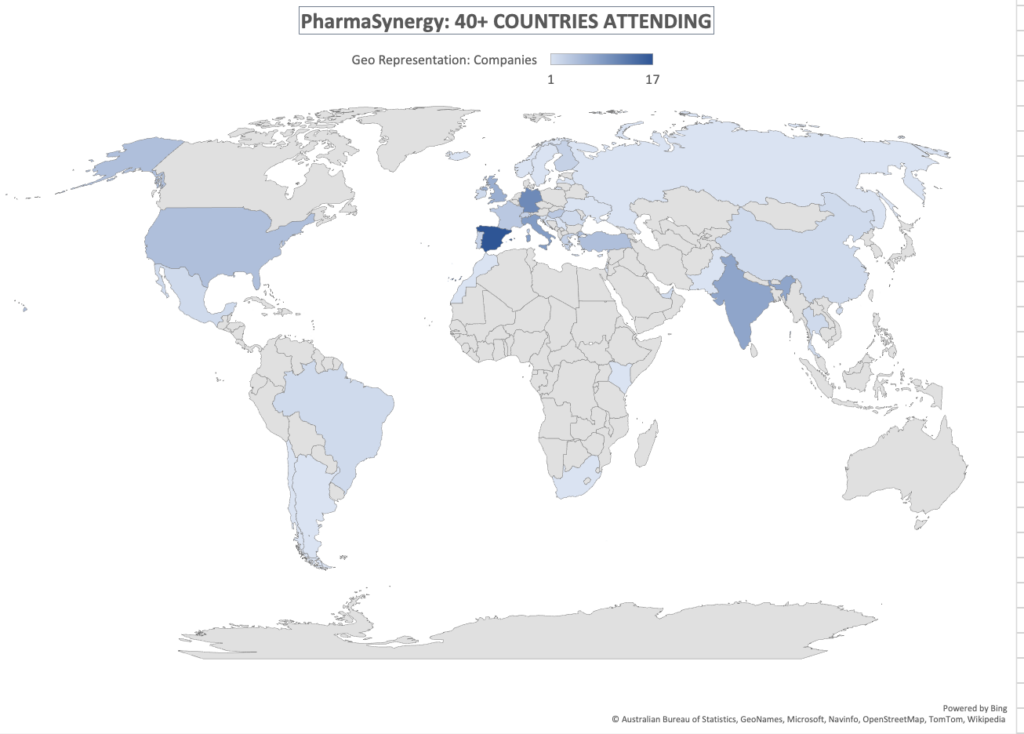 Truly international B2B event for dynamic pharma companies that are coming from 45+countries.  The meeting offers partnering opportunities with key players from Europe, Noth America, Africa, LATAM, CEE, MENA, and APAC.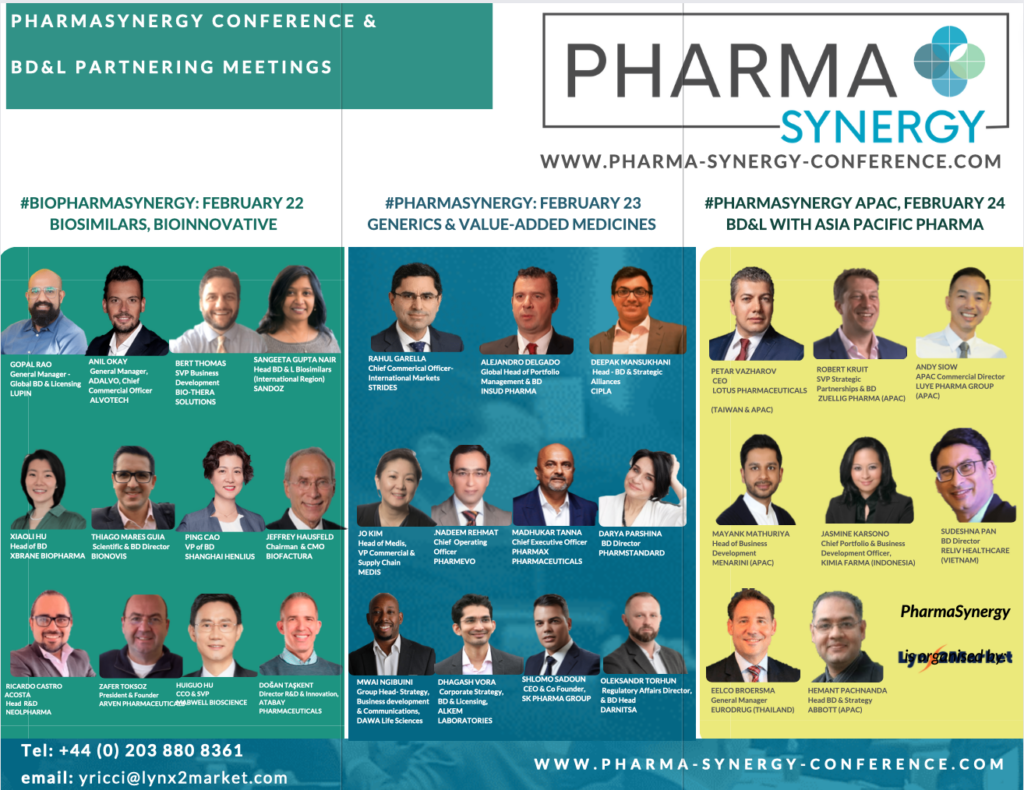 All our events offer a full conference programme with professional and relevant content that adds value and provides useful information.
Keep checking our web-site to stay tuned